More has happened at Dodge in the last few days than in years. The Hornet – its version of the Alfa Tonale – is Dodge's first all-new car in a decade; the Durango SRT Hellcat returns for one last hurray in 2023; it was announced that Dodge dealers would help third parties make Challenger convertibles; and an all-new line of Dodge Direct Connection Performance Parts was launched, for those who want their latest Hellcats (also announced earlier this week) to have a little more pizzazz. And that was all before that, a "perception-breaking concept that reimagines what a BEV can be." It's been kind of Dodge Speed ​​Week, so to speak.
This is the Charger Daytona SRT Concept, a car that previews what the future of Dodge's muscle car could look like without an internal combustion engine. And what a stunner it is – even without 'Charger' written on it wherever you know what this is, with the iconic lightweight silhouette, narrow conservatory and pumped-up hips. The concept even gets something called an R-Wing (the scoop on the front above the light bar) in homage to the original Charger Daytona, keeping the blunt profile (Dodge's words, not ours) while promoting aerodynamics. Which of course benefits the range.
There is also a revived historic decal for this car, the 'Fratzog' logo on the wheels and on each end first seen in Dodge muscle cars from 1962-1976. According to the creator, this car has "an inspired design that rises to the challenge of radically changing the look of a BEV while offering subtle nods to the brand's muscle car past," one that "puts aside the boring BEV paradigm and replaces it with an electrified car'. vehicle like no other on the road today'. You won't find us disagreeing with any of those sentiments.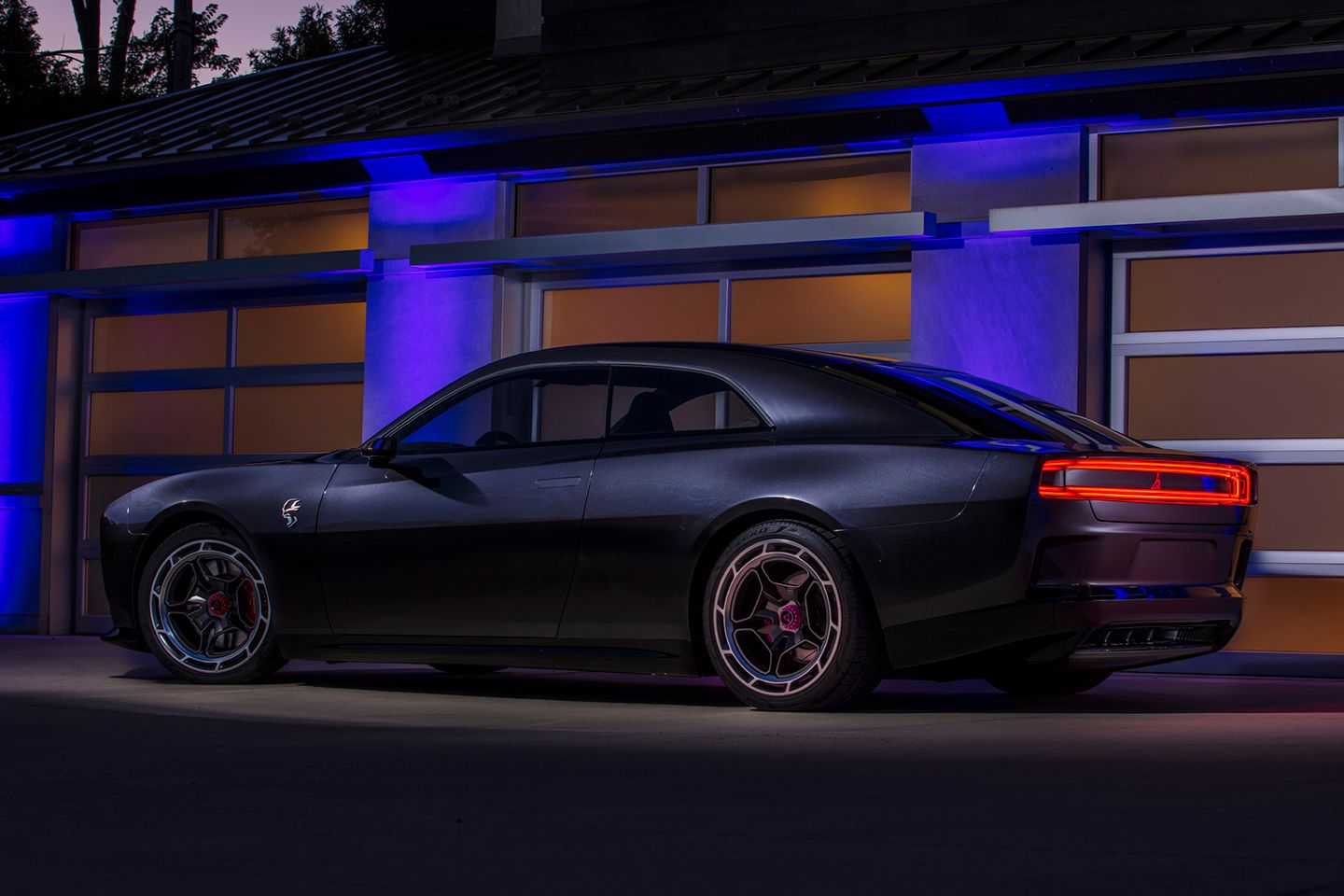 But making an EV look cool is considerably less than half the battle. Because such a Charger has to replace a car powered by an unforgettable V8, and that is no easy task. No doubt aware of the challenge it faces, Dodge is using the Daytona to introduce new technology that aims to enliven the EV experience. The first is something called a chambered Fratzonic exhaust; not only does it have an appropriately wacky name for a muscle car accessory, it also makes an electric charger anything but silent. The amp and tuning chamber create a 'unique' performance sound that's as loud as a Hellcat. No, seriously – Dodge says this is an EV that "puts out a 126 dB roar." And we're all curious about that, right?
In addition, this charger is equipped with a so-called eRupt transmission that works together with the exhaust to make the best sound possible. Described as a multi-speed transmission "with electro-mechanical shifting delivers distinctive shift points, throwing the shoulders against the backrests in true Dodge style." Which, again, doesn't sound entirely possible with an electric vehicle, but we're nothing but curious to experience the reality. Because there isn't an EV that wouldn't benefit from the kind of theater and entertainment this technology seems to bring.
The Charger isn't just a gimmick on top of an outdated platform, either. The Daytona is supported by a new 'Banshee' architecture, with a system voltage of 800 volts like a Porsche Taycan. That should mean a lighter, faster charging electric car. This concept also has four-wheel drive, which should deliver an incredible quarter-mile time.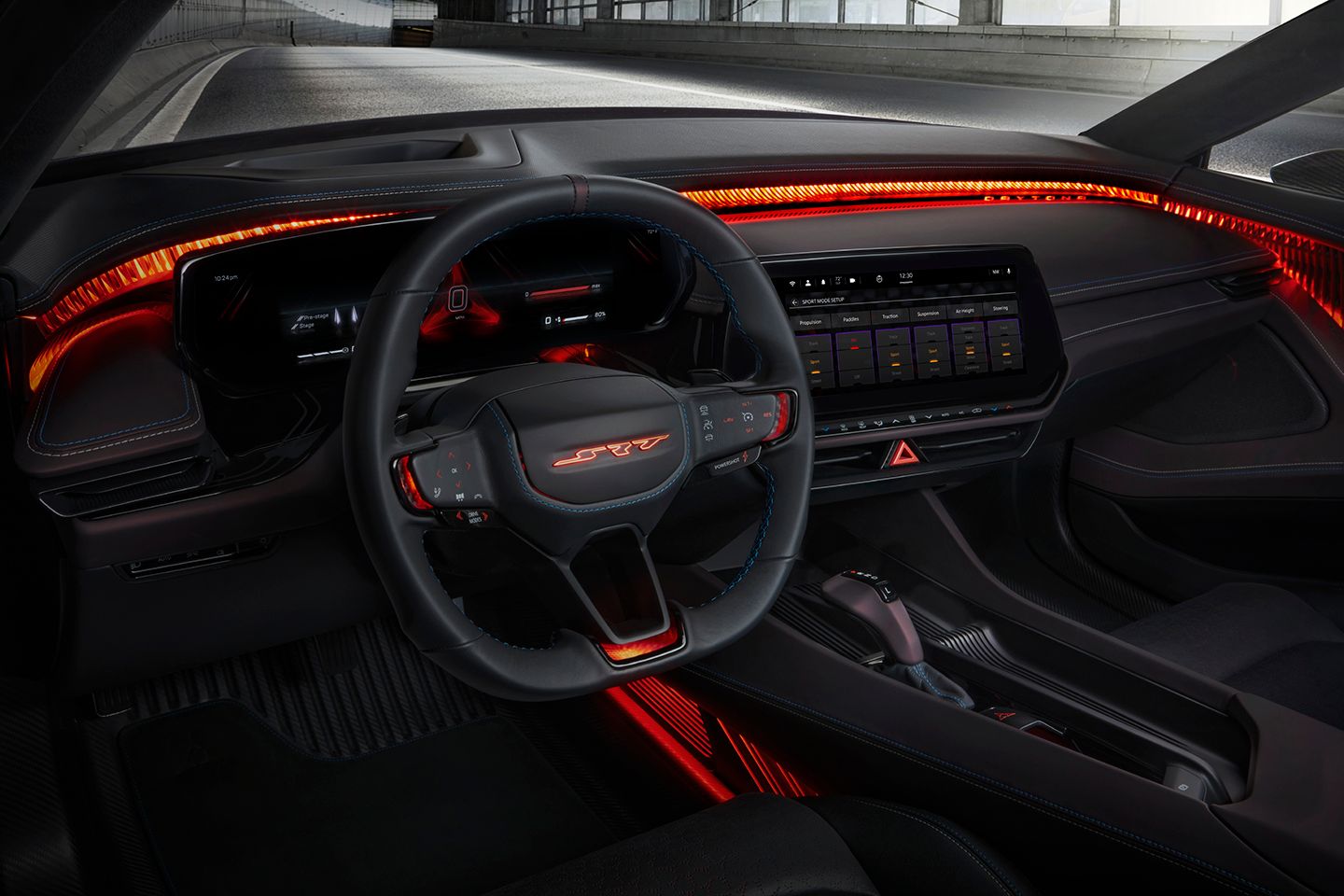 Perhaps as important as all of that is the effort Dodge has put into making this concept a production-ready car. This isn't some stellar idea to appease lawmakers – there will soon be a charger that looks like this. See inside for evidence. It's like a Dodge interior, except it's not – because it's good. The cabin isn't packed with crazy concept car features that will never see production, but instead gives a taste of what the next generation of Dodge's eMuscle cars could actually look like. Standout features include a steering wheel mode dial for Auto, Sport, Track, and Drag settings, wraparound lighting that will change with those modes, and a proper pistol-grip shifter like an old-school muscle car. How it will all feel in reality is another matter, but the Daytona looks great for now.
Dodge CEO Time Kuniskis is optimistic about the Daytona's prospects, suggesting he is capable of nothing less than redefining American brawn: "Dodge is about brawn, attitude and performance, and the brand is wearing that chip its shoulder and in the BEV segment through a concept loaded with patents, innovations and performance features that embody the electrified muscle of tomorrow." The future of the Charger has probably never looked so bright.