In today's world of parts swapping, platform sharing, and the highly regulated automotive world, it is Cleverness that deserves applause. As the auto industry shifts to renewable energy, it's companies like Dodge that are really embracing what internal combustion engines are. Surprisingly, the fundamentals of the brand have largely remained the same, despite the emissions fiasco that every car manufacturer around the world has been dealing with.
The fact that Dodge still sells a family SUV with a supercharged 6.2L V8 is rather audacious. Add the gas-guzzling Charger and Challenger SRTs to that, and the whole lineup is downright badass.
If we're being brutally honest, the Dodge Challenger is our only recommendation for hardcore muscle car enthusiasts. Frankly, the Mustang has transitioned into a mix between a sports car and a muscle car, and Ford is currently milking its glorious heritage. The modern Camaro is not necessarily a real muscle car either.
The Challenger SRT Hellcat is without a doubt the last major muscle car sold in America. But what surprised us was how Dodge lied about the Hellcat's horsepower numbers. Freedom Street Garage took their 2021 Hellcat to the JBA Speed ​​shop and put it on the dyno. Surprise, surprise, the car made more power than advertised!
RELATED: Texas State Troopers Have a 1,080 HP Dodge Challenger SRT Hellcat to Make Lawbreakers Shiver
Let's take a closer look at FSG's $100,000+ Challenger Hellcat Widebody
What you'll find under the hood is a 6.2L supercharged Hemi that puts out a whopping 717 horsepower and 656 lb-ft of torque. At least, that's what Dodge says. More about that soon. For something that handles like a boat, the Challenger Hellcat – despite its aging platform – is still a force to be reckoned with. If you've ever doubted the purpose of the Hellcat, think about this: the speed machine comes with a 2.4L supercharger, which is about the size of most regular car engines.
Dodge equips the Hellcat with active Bilstein suspension, in addition to Brembo six-piston front and four-piston rear brakes. The supercharged Hemi sends power to the rear wheels through an 8-speed automatic transmission, with a limited-slip differential for better traction. You could have ordered a Hellcat with a six-speed manual transmission, but the 2022 Challenger Hellcats are exclusively an eight-speed torque converter. Apparently this is a temporary measure and the six-speed manual transmission should return with a revised calibration at some point.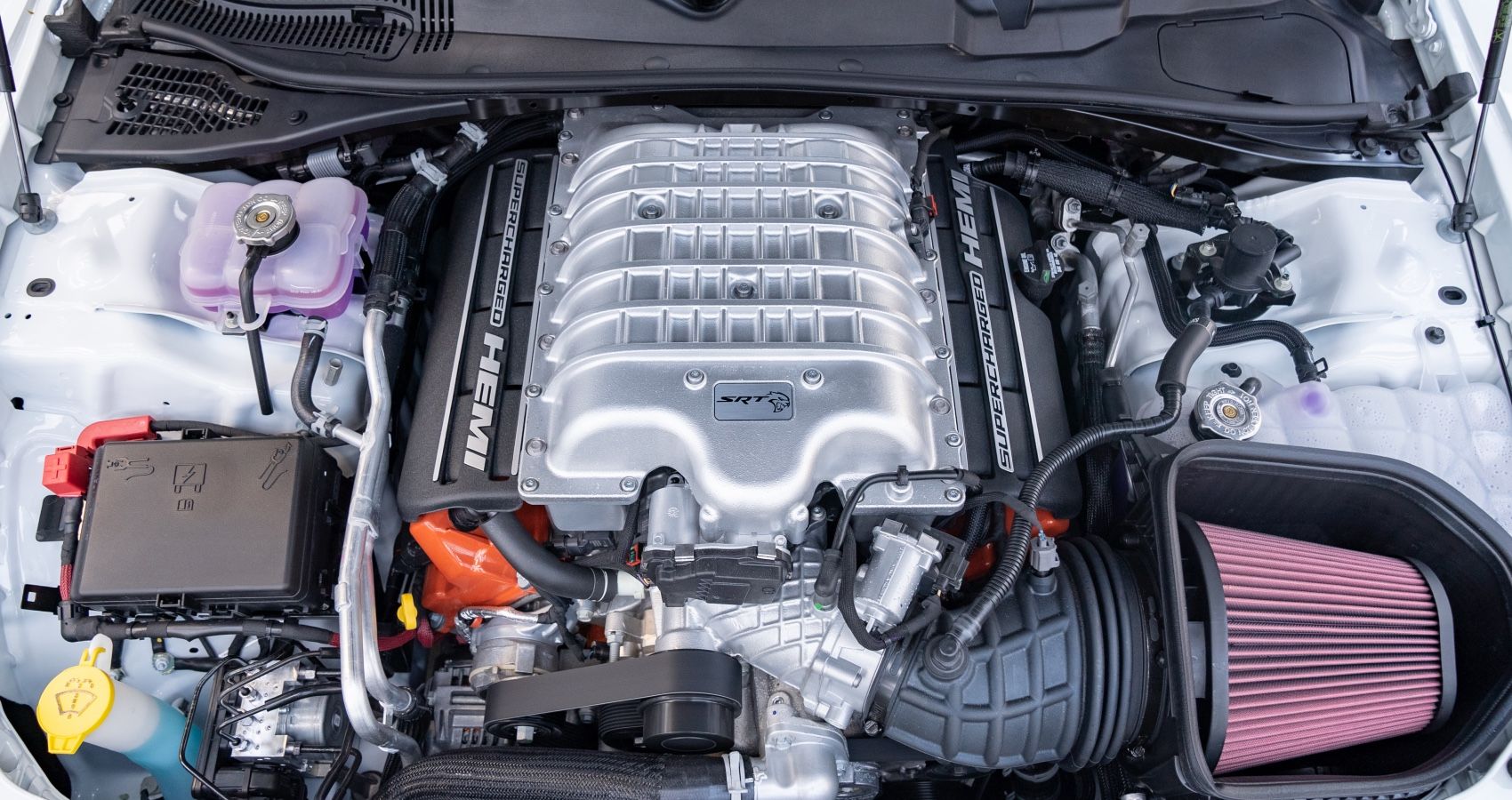 FSG's Hellcat costs over $100,000. Has the widebody package, which adds $6,000 to the $61,000 base price of the Hellcat. Comes with the $2,000-plus optional package, which gives you ventilated seats and suede inserts. Plus, the Hellcat is optional with the $1,000 Alcantara package and SRT logo embroidered on the seats. It also has the nearly $2,000 Harman Kardon 18-speaker premium audio and the U-connect 8.4-inch touchscreen with Apple CarPlay and Android Auto.
This Hellcat gets the 8-speed auto and adds another $3,000 on top of the $1,200 granite finish 20-inch wheels wrapped in 305-section high-performance rubber. All told, the car costs $83,000. But after factoring in the taxes, dealer markings, the custom gun-metal wrap and ceramic coating, the total price skyrockets to over $100,000.
RELATED: Chevy Camaro ZL1 and Dodge Challenger Hellcat Drag Race Have Surprising Result
The 2021 Challenger Hellcat puts out over 717 horsepower at the crankshaft
FSG's Challenger Hellcat makes 748 horsepower at the crankshaft after the dyno run. This means that Dodge undervalued the Hellcat by advertising it with 717 horsepower. And looking at the dyno chart, the Hellcat puts out 563 whp (wheel horsepower), while the torque figures are 521 lb-ft. This equates to a 25 percent powertrain loss, something you have to live with. However, the loss of about 190 horsepower could have been minimized if it had been a manual.
That said, vending machines are becoming more and more efficient. And the 25 percent loss seems a bit high. Owners on Hellcat.org claim 620-640 whp. Also, they estimate the powertrain loss at about 15 to 20 percent, which makes sense considering it's a fairly modern gearbox. On the other hand, a dyno is a tool with many variables. Air temperatures can affect output, as can altitude. An intake that is too hot – you will run out of power; the colder the better. Fuel used also makes a difference. Higher octane fuel may produce better results.
Another conclusion from the JBA dyno run is that a Mustang dynamometer is used for the test. Forum members claim that Dynojet is slightly more accurate, which brings us back to the idea that a dyno is just a tool. Use it as a reference when changing the internals or performing a tune. Numbers only make sense if you use them to the fullest. Nine out of ten people use their Hellcat as a recreational item. Sure, no one hits the strip every day. So instead of worrying about numbers, try to enjoy it. And since it's a Hellcat, we're pretty sure you won't be disappointed.
Sources: Freedom Street Garage, Hellcat Forum