When it comes to exploring junkyards and finding real gems, nothing beats Steve Magnante. The automotive journalist and YouTuber has a knack for finding interesting features on all kinds of cars, whether they're Japanese classics to weird American SUVs and classic cars. Magnante is a legend when it comes to the junkyard crawl. Many of his recent videos are from Bernardston Auto Wrecking in Bernardston, Massachusetts and this place is full of real gems.
While it's approaching winter as Magnante filmed this latest video, that hasn't stopped him from checking out some truly incredible machines at Bernardston Auto Wrecking. In one of his more recent videos, he took a look inside a 1969 car Cleverness W100 Power Wagon, a classic when it comes to Dodge pick-ups. But what's especially interesting about this one in particular is that it's a rare example of the breed, and Magnante says in his video description that we'll be in for a surprise when we learn how rare this particular Dodge W100 actually is.
RELATED: Steve Magnante stumbles across a rare edition of The Imperial Crown
A rare example of a classic Dodge pickup
As Magnante says, we can see the remains of his yellow snow plow on the front, indicating that this particular W100 used to clear a lot of snow. 1968 was actually the last year the real, giant Power Wagon was actually made with the WM300 before Dodge took the name to a four-wheel drive pickup. Magnante has a 1969 Dodge truck brochure on hand to show us the new line of Power Wagons, now expanded to include four-wheel drive pickup trucks. The brochure refers to the W100 Sweptline and the W300 Utiline.
The latter of those two is as close to the big Power Wagon as you could get from 1969 onwards. Under the hood of this particular Power Wagon is a 318 ci and 210 hp engine, specifically a truck version of an engine that produces 230 hp in a family car. This is the LA "Wedge" series engine, and both this and another variant have a 3.9 inch bore and 3.1 inch stroke. Magnante also shows us the inner fenders which actually doubled as a little tool tray when you were working on your truck and this was intentional from Dodge.
A closer look at the intriguing hydraulic pump
Magnante lets us look at the belt-driven hydraulic pump for the plow, which provides the fluid, power, and pressure for raising and lowering the plow blade. A valve goes up and down in the stroke, via a lever in the truck, meaning this was a pretty heavy truck. Magnante also tells us that this was a truck with a short bed of six feet. And of these, only 1,773 were actually made, meaning they are incredibly rare. 1,707 of those were V8 trucks, and only 857 of those had slant-sixes and four-wheel drive.
To put it in context, if it was a two-wheel drive D100, some 40,000 would have been made. This is then a very rare truck. In the cabin we see that it is a Custom cab, which is noticeable by the large rear window. Magnante also notices some rust repairs on the truck and tells us it would have had a three-speed manual transmission. We then see the large arm with yellow tape, the controller for the hydraulic valve. However, the weird household switch is definitely not a factory modification!
A rare Dodge truck in pretty bad shape
Magnante also shows us a Dodge brochure with the original power trucks in it, which were big heavy trucks that were of course used extensively in World War II and then redesigned for peacetime use. The name Power Wagon saying Magnante certainly helped Dodge sell these smaller trucks from 1969 onward, even though it was initially used on much larger trucks. We see the name Power Wagon on the side of the car. It was controversial at the time, according to Magnante, but it helped sell the truck. The truck even has a floodlight for night shifts, and it still moves and turns.
RELATED: Here's What Every Gearbox Should Know About the Dodge D100 'The Dude'
A hugely fascinating Dodge pickup with Power Wagon pedigree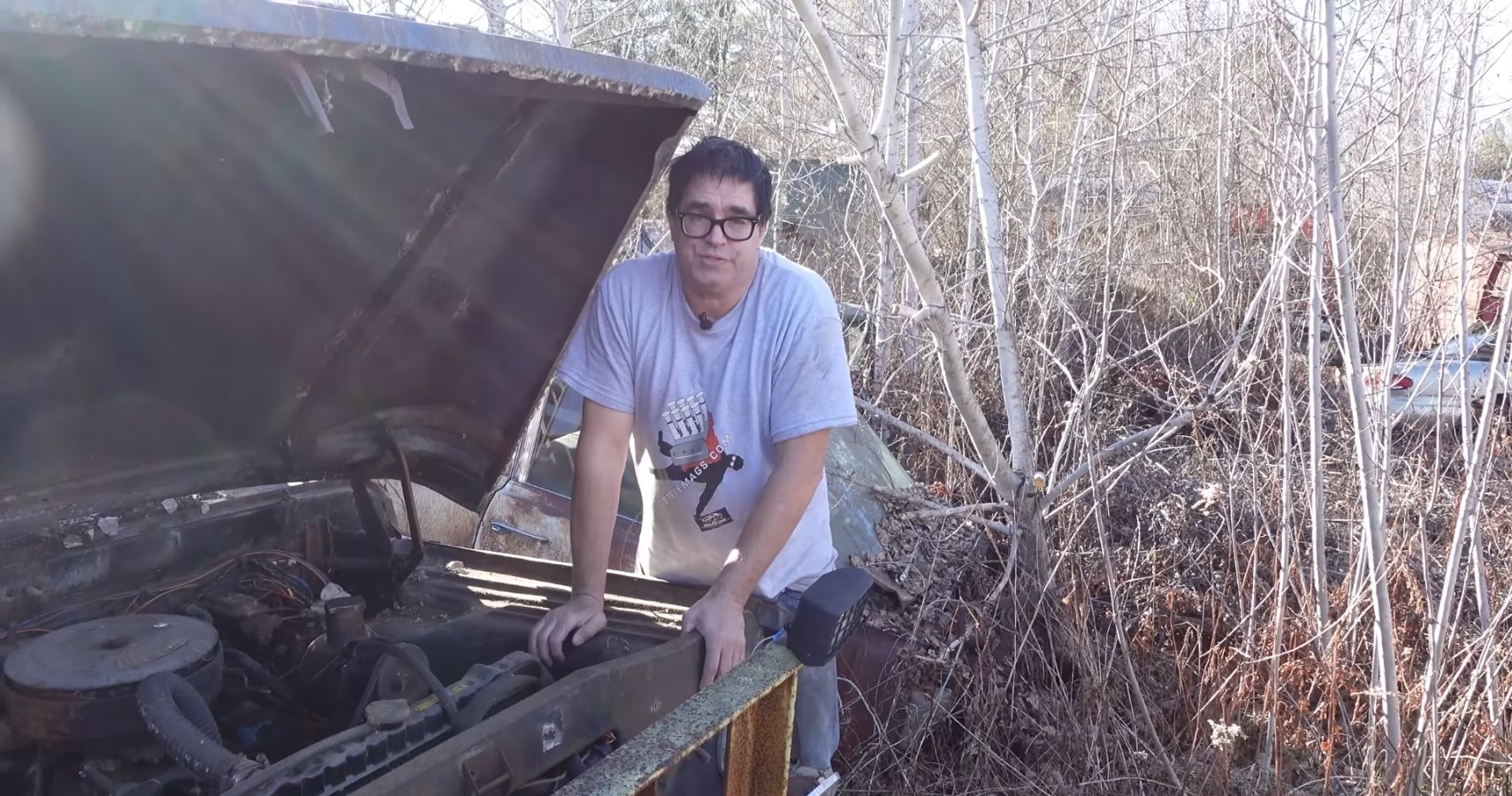 We look at the truck's VIN on the driver's side which starts with 218. The 21 indicates that it is a half-ton W100 four-wheel drive, and the 8 indicates that this is a V8 powered truck. The short bed Magnante says makes this a very unusual and rare truck. The VIN tag also says 355, indicating it is a half-ton 355 eight and three-quarter rear axle. This truck is still at Bernardston Auto Wrecking, says Magnante, so who knows what someone might do with this rather rare piece of Dodge history.
Source: Steve Magnante YouTube channel